Worship with Us
Sunday ~ 10:00am
Open Hearts. Open Minds. Open Doors.
It doesn't matter if you're a user, developer or somewhere in between. Let Jump Start empower you to not only create amazing, professional WordPress sites, but also help you grow in the field.
Next
Show your audience what's important with our Hero Unit Slider, which is what you're looking at now. Just the right amount of flexibility.
Next
Ultimate WordPress Jump Start
Next
Users
Yuck, you don't want to touch code.
Jump Start is for you.
Inbetweeners
Like most of us, you're always learning.
Jump Start is for you.
Developers
You're a rockstar dev, looking to code.
Jump Start is for you.
This is the theme you've been waiting for, with all of the features you could want.
With everything you'd expect from a Theme Blvd theme, we're proud to bring you the latest release of Jump Start, containing the latest version of our theme framework. This theme offers everything needed to get a great site up and running, no matter who you are.
For all skill levels, you can do great things with Jump Start.
With five awesome theme bases, developers and users can finally unite.
The first is the Developer base, which serves up the theme in its default state, for more freedom in your child theme development. And for the super user, there are a few more bases that add flexible user options to create a killer custom design, without any coding.
So, what can you create with each theme base?
While the possibilities are endless, below we've setup some basic examples for you, all created through user options, with no coding required. Feel free to use this site, or any of the examples below, as the starting point for your next website with our
quick setup system
.
Jump Start is perfect for your next project, and every one after that.
Create an awesome website that displays beautifully across all devices.
In today's market, every theme seems to be tagged as responsive, but not every theme should be treated equal. We've crafted our entire theme framework to display beautifully whether you're on a desktop, a laptop, a tablet, or a mobile device.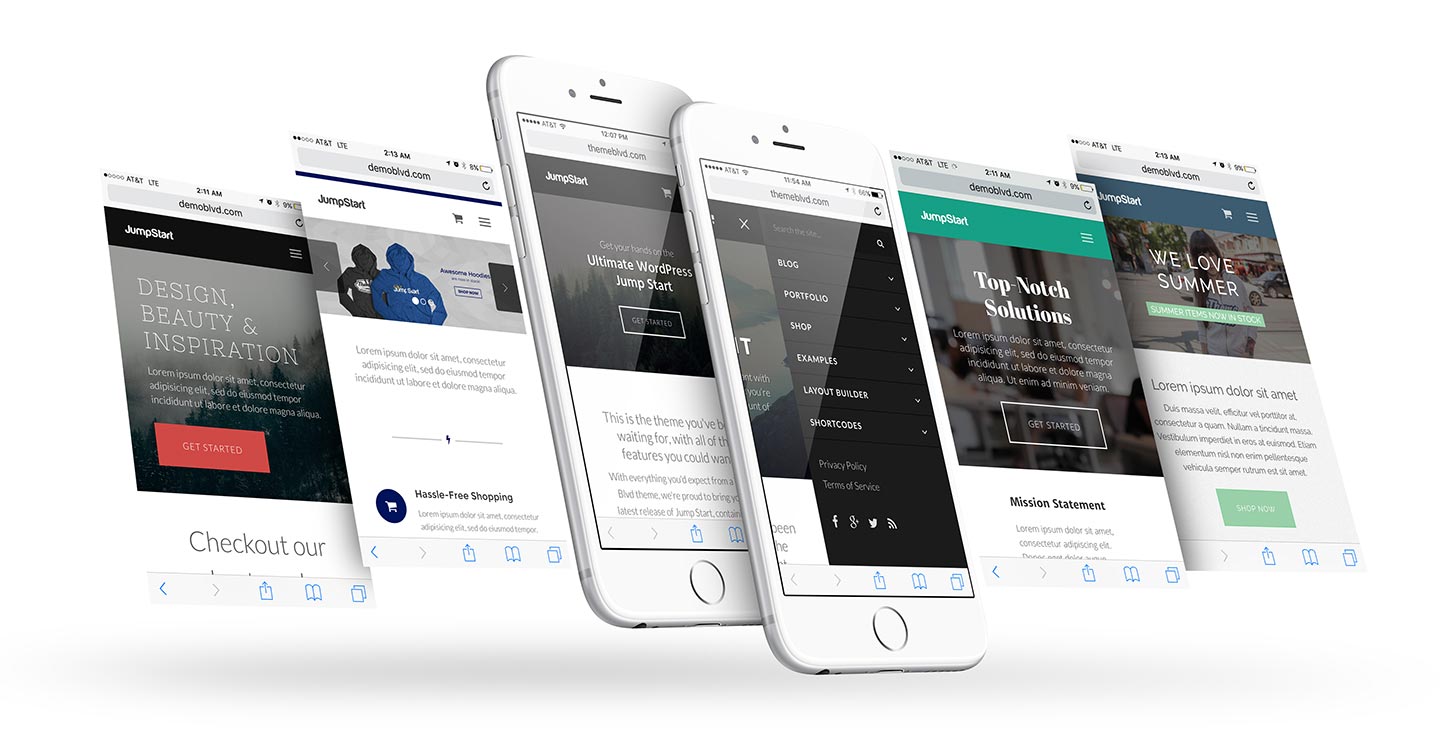 Jump Start is a WordPress theme that inspires you to build.
Layout Builder
Crafted exclusively for Theme Blvd themes, we pride our layout builder on giving you the freedom to create those epic, stand-out pages on your site, while giving you an end-user experience that blends in, and enhances, the beauty of editing with WordPress.
Drag-and-drop friendly, with integration into default WordPress editor

45+ layout builder elements

Unlimited sections for elements, supporting video & parallax backgrounds

Create page-specific layouts or re-usable templates — See Video

Default sample layouts included — See Video

Homepage integration — See Video